"Fine Filament Edge Cutting Tape ideal for Vehicle Vinyl Wrap and Protective Film Projects"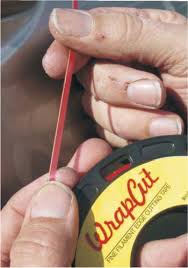 WrapCut Fine Filament Edge Cutting Tape can be used to make precise trim lines through many printed vinyl and protective film products as well as paint and epoxy coatings. With the fine cutting filament ALWAYS at the very edge of the tape, WrapCut prevents errors in cutting location, producing a perfect cut every time and solves many related industrial applications where the use of a utility knife was the only previously accepted method for trimming through thick films and coatings.

Reduces the required skill level

Fast learning curve for use

Eliminates underlying surface damage (automotive glass and exterior paint finish)

Creates new possibilities for application eg overlapping vinyl surfaces

Low cost per foot/meter
Saves Time and Energy
The method and application is fast and easy!
Simply position the tape with the filament-bearing edge along the precise desired line for cutting, apply the vinyl film to the surface as usual and then pull the filament out and through the vinyl. With the fine cutting filament at the very edge of the tape, WrapCut now becomes an applicator's predetermined trim line, producing a perfect result every time.
No Knife Required
With WrapCut Fine Filament Edge Cutting Tape, you no longer need to worry about the vehicle's paint job because the fine filament within the tape will produce a clean, smooth cut-line with just an easy pull through the vinyl. The strong flexible tape removes just as easily from under beneath the vinyl for a professional, unblemished finish.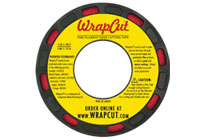 Extreme Flexibility
WrapCut Fine Filament Edge Cutting Tape not only produces impressively straight cut-lines, but also has superior conformability around irregular shapes and angles. The supple tape material unwinds effortlessly from the spool, making it easy to outline the entire project. With a slight tug on the fine filament and a smooth pull the length of your vinyl, the trimming job is complete!

Get a sharp, clean cut every time with WrapCut Knifeless Edge Cutting Tape